J & J Ponies
By
HUNTERS HAVEN FARM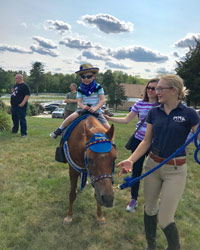 Hunters Haven is a full service barn located in beautiful Groveland, Massachusetts.
With over 25 years of experience, J & J Ponies has provided safe child entertainment at parties, functions, company outings, community events, school fairs, town fairs, and any kind of event you can envision. We bring our shiny, happy, kid-friendly ponies with everything necessary for a fun and unique experience. We take excellent care of our ponies and it shows!
Whether it's a party or event at our beautiful farm, or pony rentals brought to your event, our ponies and service are sure to be a hit.